Citizen Science offers unique opportunities for members of the public and scientists to connect and work together to gather data and answer real-world questions. Dolphin Watch is a pilot citizen science project developed by FAU – Harbor Branch Oceanographic Institute and the Marine Resources Council to gather dolphin movement data within the Indian River Lagoon, Florida. The program enables the public to submit photographs and sighting data to advance scientific knowledge of dolphin occurrence along home fronts and in the intricate canal ways of the estuary's meandering waters. The HBOI-MRC partnership combines HBOI's breadth of knowledge of IRL dolphins with MRC's well-established lagoon stewardship programs to collect data and provide feedback on how to best implement the project on a larger scale.
The link on the right provides a form to enter data and photos.
FAU – Harbor Branch Oceanographic Institute's Dolphin EcoCensus collects population data on Indian River Lagoon dolphins, including abundance, distribution and movement patterns for use in stock management and conservation strategies. The 20-year program has identified >2,200 dolphins and four concurrent generations that reside in the IRL, within six distinct communities. Knowledge of home range and movement patterns are vital in understanding dolphin exposure risks to environmental pollutants and responses to harmful algal blooms, as well as changes in water quality, habitat and prey availability. Recent unusual mortality events, resulting in high dolphin mortality rates within specific portions of the IRL may be tied to man-made or natural changes in their environment. However, more information is needed to better understand how and where dolphins spend their time.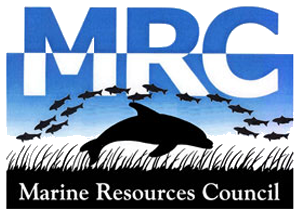 Marine Resources Council (MRC) is a multi-faceted 501(c)(3) charitable non-profit organization committed to engaging the community in programs that actively protect and restore the Indian River Lagoon. MRC has trained and equipped citizen scientists for several lagoon research efforts. Lagoon Watch is MRC's Centerpiece Science program, recognized by President George W. Bush with the President's Environment and Conservation Challenge Award Medal in 1991. Lagoon Watch engages hundreds of citizen scientists in water quality data collection, amassing an invaluable archive to document ecosystem changes and assess the health of local waters. MRC's citizen science-supported MuckFinders program measures and maps the extent of muck covering the lagoon bottom to advise much management and prioritize muck removal. MRC's Groundwater Wastewater Study trains and employs citizen scientists to measure the extent of that contaminated ground water is polluting the lagoon. MRC is excited to work with Harbor Branch Oceanographic to involve citizen scientists in data collection on dolphin populations in the lagoon.